CONTRIBUTING TO OUR COMMUNITY & LANDSCAPE
SOIL FERTILITY
Dirt Rich's biggest passion lies in spreading knowledge about the importance of soil fertility and a local product that helps gardeners and farmers maintain a holistic agricultural system. We have learned most of our processes from Elaine Ingham and base our product around encouraging healthy biology in our soils.
PROVIDING OPTIONS FOR OUR COMMUNITY
Our valley hasn't had an option to divert their food waste unless they spearheaded the process themselves. Dirt Rich wants recycling our food waste to be an easy and affordable option for residents and businesses around the valley. Food waste composting is the most energy efficient form of recycling and provides local jobs and soil remediation product. The process is entirely local and more sustainable than any recycling options currently on the market.
A LIVING WAGE
Our roots of sustainability run deep. At Dirt Rich, we know that providing all employees with a living wage strengthens our community.
To learn more about this approach, visit soilfoodweb.com.
Good reads include: Mycelium Running, Teaming with Fungi, Teaming with Microbes and Teaming with nutrients.
ALISSA LA CHANCE
OWNER AND OPERATOR
Dirt Rich Compost LLC is owned and operated by Alissa. She is Whitefish born and raised and holds a bachelor's degree in Environmental Studies with an emphasis in sustainable agriculture. Giving back to her community and helping make way for positive growth is a prominent focus in her life. Dirt Rich is a tool for her to do just that.
RYAN CONWAY
SITE MANAGER
Ryan has been with Dirt Rich since its inception. An avid biker, farmer, community organizer and artist, Ryan manages operations at the site and maintains much of the equipment for daily operations.
PHILIP SHARROW
SALES MANAGER
Phil joined us from Madison, Wisconsin this spring and helped launch our bagged product sales in gardening stores across the Flathead Valley.  A musician by trade, he never ceases to bring outside the box solutions to some of the company's challenges!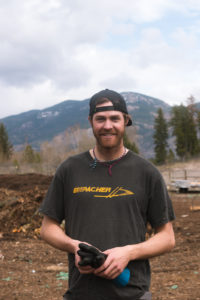 ROBERT MILLSPAUGH
SYSTEMS
Rob joined the team this spring and brought so much to the table in system improvement.  An environmental engineer by trade, he has the mind for machine and engine upkeep, record keeping and general systems management.  He's an avid river rat and canine friend!
OUR FRIENDS
Our customers, friends, and partners who either recycle with us or purchase our product!  Let's recognize and encourage sustainability efforts by local restaurants and businesses.
North Kalispell Mackenzie River Pizza
OUR ADDRESS:
325 4th St NE, Columbia Falls, Montana 59912